WENDEL CLARK'S CLASSIC GRILL AND BAR was conceived as an upscale appearing, but mid-level priced casual restaurant and bar. The main ingredients to our winning formula are; service in a casual but refined environment, state of the art HD audio/visual entertainment feature walls, and quality food at competitive prices.
The branding and identity of the company is built around Wendel Clark – a nationally revered sports figure. The Wendel Clark name is synonymous with good memories and brand loyalty – all desirable components for attracting clients and building a repeat business.
Our menu was carefully created to offer the food fares that our regular customers expect, but there is also a sprinkling of dishes designed to surprise and delight. Patrons dine heartily on quality steaks, rib dinners, chicken, seafood and pasta plates. There are a variety of salads and appetizers on the menu as well.
With rich polished wood decor, urban market banquet seating, and oversize HD TV's, our restaurants immediately impress that this is no 'man cave' sports bar of the past. Wendel Clark's is clearly striving to be 'a cut above the rest:
Canadian food service industry sales represented approximately 4% of national gross domestic product in 2014, and industry sales are expected to increase by 4.0% to $74.1 billion in 2015. Canadian restaurant visits will total 9.1 per cent in 2016. This will surpass the projected 1.2 per cent annual growth of the country's population. The casual dining sector is active and well supported by'on-the-go' Canadians. Full Service Restaurants ("FSRs") in Canada now make up 70.5% of total food service customer sales. Our restaurant group is well positioned to take advantage of these dining preferences.
Our Classic Grill and Bar menu and dining refinements are gaining us new customers on a regular basis. Our progressive marketing initiatives are focused on building a loyal and repeat customer clientele. For 2016, our social media efforts, and our website will also play an important role in exposing the Wendel Clark restaurant to even more new fans.
"Supervision, training programs and coaching are the 'big three' features that your franchisor partner brings to the table. You are not alone on your franchise journey. You always have someone in your corner': – Wendel
*sources: NPD Group & Canadian Food Services
A recognized brand, a proven concept and a fun environment. These are the hallmarks of a franchise poised for success. Our numerous satisfied customers have been encouraging us to franchise our concept for quite a while, and now interested entrepreneurs can grow along with us. We have a highly personalized approach to expanding our business, and all of the systems are now in place to assist our teammates in reaching their life income goals.
Reasons to join the team:
•   Unique market branding
•   Wide and varied menu offerings
•   Strong community involvement
•   Large support team
Our commitment to you:
•   Collective buying power to lower your purchasing costs
•   Supply managerial, operational and accounting systems to help you succeed
•   Provide Franchise Brand advertising support
•   Supply local area marketing ideas and assistance
•   Conduct ongoing market research and product/ menu development
•   'State of the Art' operations systems
With the NHL Toronto Maple Leafs, Wendel Clark was a hard-working 'hands on' playing Captain who was known for going full out on every shift. He is indisputably one of the most popular players to ever wear the Maple Leafs blue.
The former Leafs Captain played 13 of his 15 NHL seasons with Toronto, and was idolized by thousands of hockey fans. Very few hockey players ever attract the following, respect and sometimes fan adoration Wendel Clark has enjoyed. Even more unusual, is to retain that fan base and interest when a sports career comes to a conclusion.
Today, Wendel has the same high profile and in-demand appearance requests that he enjoyed in his lengthy hockey career. While the playing surface and arena may have changed, the work ethic and dedication to win remains the same, and is in play every day with his business team.
Wendel is not just a celebrity spokesperson, he is also an owner and active member of the grill and bar development and operations team at Wendel Clarks. When you join the team, you gain more than a well-known brand name, you get the involvement of the active partner behind the brand.
The primary grill and bar customer target group are people who crave sports-related entertainment, upscale surroundings, and a satisfying value-driven dining experience.
Although the main target audience at the sports bar is the more discerning sports enthusiast, the restaurant has very strong appeal to both men and women. While sports celebration is a dominant feature of the offering, the environment also has an uptown and upscale decor that has overlapping appeal to a very wide audience. The discerning market today wants a 'touch of class' along with their comfort and value.
With a Wendel Clark's restaurant, you always have two streams of income. One is the casual restaurant patron who lives in the immediate area, and the other is the sports enthusiast who is consistently seeking out the right venue to cheer on his or her favourite team. Either way, Wendel Clark's is ready for business.
Not everyone will be accepted into our franchise program. We have high ideals. Although we have a vested interest in the success of our franchise candidates, ultimately it's their hard work and dedication that makes the difference. Are you willing to work towards a starring role? If so, here are the attributes that we deem are a good fit with our concept:
ATTITUDE
If you are looking to be part of a team and operate a business under a proven concept, then we want to meet you. We believe that every selected candidate brings good ideas to the program and we are looking for people that want to participate.
SOCIABILITY
We are in the customer service business first, and the food service industry second. We built our brand on service and we want to form relationships with like-minded individuals.
HANDS-ON APPROACH
Our restaurants are social hubs and the customers want to meet and interact with the operator. It's extremely important that your staff members see that you are not only the leader of the team, but one of the team members working beside them as well.
OPENNESS
Our concept will provide you with all the tools you need to be successful. We are growing and changing. We need individuals that want to grow alongside us and respond to the changes needed to stay super competitive.
If we have just described you, please contact our office today.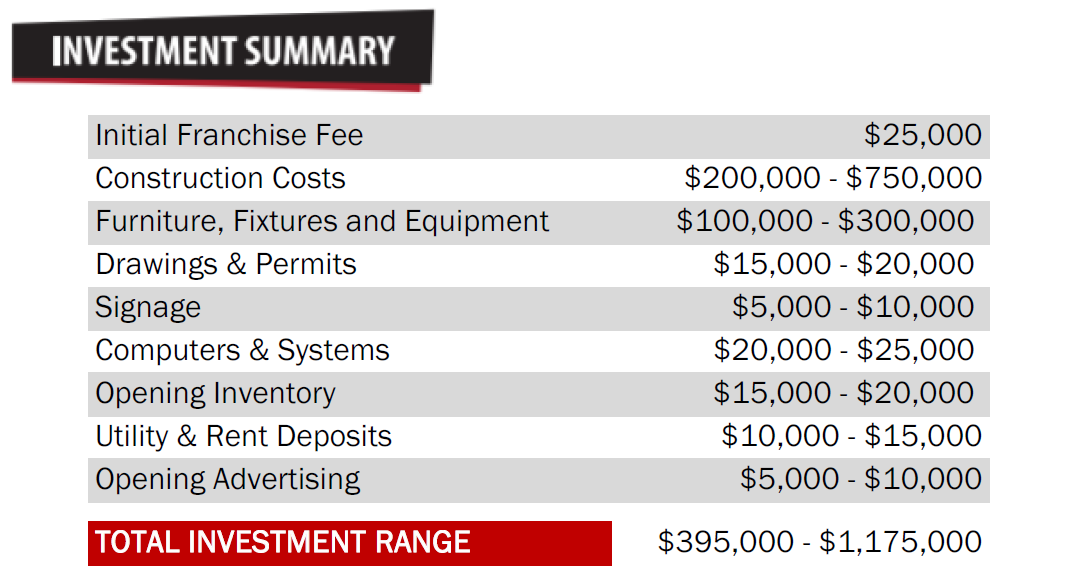 Notes:
1. Based on an average restaurant size of approx. 3,000 – 5,500 square feet.
2. Construction costs and Leasehold improvements will vary at each location.
3. Rental Rates and Rent Deposits will vary for each location.
4. Financing available of $350,000 from the Government Small Business Loan program.
S. Additional Working Capital is required of approx. $50,000.
Information on this investment page regarding the sale of a franchise in Canada is incomplete, and should not be viewed as an offer to solicit or to sell a franchise. No franchises will be sold to any resident of any Canadian franchise registration Provinces prior to the required delivery of a Franchise Disclosure Document.
Interested in Franchising?