Give the Gift of Wendel's
Perfect for employee rewards, sales incentives, client recognition or gift giving, they'll be thanking you after redeeming their Wendel Clark's Classic Grill & Bar gift card and e-certificates with a full stomach.
In addition to buying physical gift cards in store, you can now skip the line by sending digital e-gift certificates via email to loved ones and friends in both Ontario and Saskatchewan.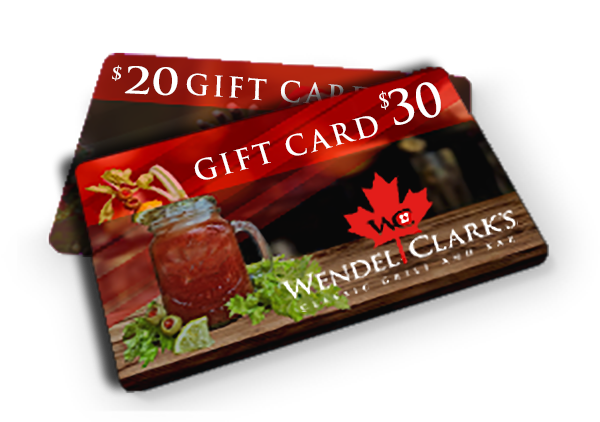 Physical Gift Cards
Perhaps you want to add something special to a thoughtful card or maybe your dad is the world's #1 Wendel Clark memorabilia collector. For those that prefer an authentic tangible gift card, we've got you covered. Physical Wendel Clark's Classic Grill & Bar gift cards can be purchased in-store at any location. Quick Tip: Keep the receipt for safe keeping in case they lose their card. 😉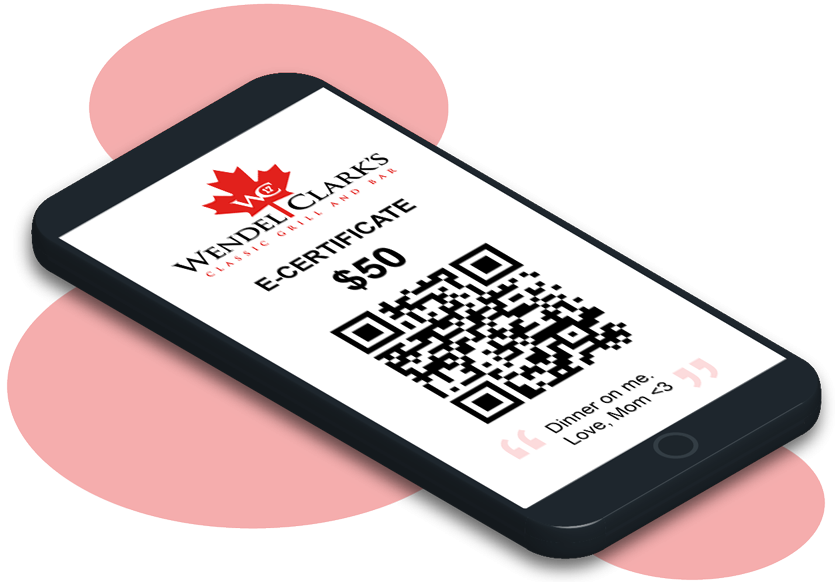 E-Gift Certificate
When distance or time is a factor, or if your gifting for that sharp tech savvy grandson of yours, loading an e-gift certificate is the fastest, easiest and most convenient way to show your appreciation. Just fill out the form with the dollar amount you want to send, their name and email, pick a date for it to be sent, don't forget to leave a personal message and voila! All done!
USE OF GIFT CARDS & E-CERTIFICATES CONSTITUTES ACCEPTANCE OF THE FOLLOWING TERMS: Protect your gift card and e-certificates like cash. Cards and e-certificates can be redeemed at any Wendel Clark's Classic Grill & Bar location. Present the card or e-certificate (on your phone or by printing it) to your server when paying your bill. Balance remaining can be used towards your next bill. You can add value to your physical gift card at any location. Card is non-refundable and has no cash value. Card is not redeemable for cash except where required by law. If Card is lost, stolen or used without authorization, it cannot be replaced. Value is in Canadian dollars.